Do you know what Family Day Care in Australia is? If you don't, then you're missing out.
Most families looking for Child Care know about Long Day Centres. Many are also familiar with the concept of nannies. Other families though prefer the concept of home-based care in Australia.
Family Day Care is an alternative to centre-based care. And Family Day Care provides the same high-quality care as other options. The difference is the care happens in the Educators' own homes. Both young and school-aged children can be cared for in this setting.
Family Day Care in Australia accounts for 10% of the Child Care sector. So, more than 10,000 Educators are working in Family Day Care settings. These Educators serve 130,000 children as of 2019. Both Family Day Care and Centre-based care use the same core elements.
Family Day Care in Australia Quality Frameworks
Three basic regulations in Australia apply to Family Day Care services.

The National Quality Framework (NQF) is part of that legislation. The goal is to increase the quality of childcare in Australia. So, NQF helps Service Providers and Educators to improve their skill sets. It provides for assessment and rating of all programs. Then, these ratings are published for the public to view.
Second, the National Quality Standards (NQS) exists to set minimum standards. These standards apply to all Child Care settings.
Last, the Early Years Learning Framework informs the practice of all Educators. It uses play-based learning. Thus, this method will help children grow and learn through hands-on experiences. Children are naturally inclined to play, so this method takes advantage of that to increase social skills.
Families who use Family Day Care are also eligible for Child Care Subsidy. The assistance is open to parents on a sliding scale. Sliding scale means that parents are subject to means and activity testing.
Flexible Child Care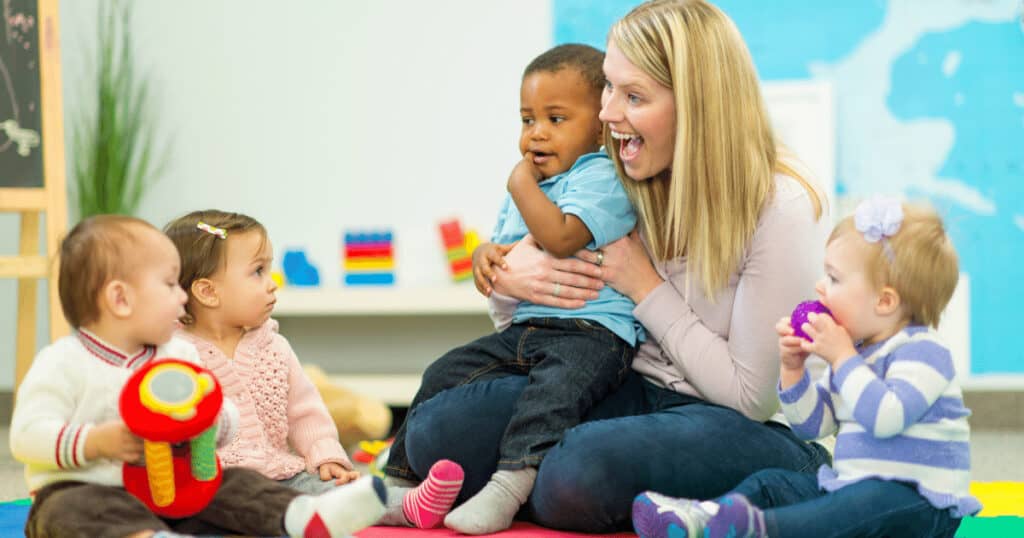 Family Day Care is the only approved service that supports 24-hour care. Parents who work afternoons or overnights often struggle to access quality care. Also, weekend and holiday care allow even greater access for families.
Not every parent has a Monday to Friday workweek. So, these services are a crucial part of Australia's Child Care network. Non-standard working arrangements are increasing every day. Access to care outside the 9-5 is a massive issue for families.
Coordination units run by Councils and Schemes support Family Day Care Educators. They also monitor progress, learning outcomes, and overall well-being.
Educators in Australia must all meet the same standards. It doesn't matter if it's Family Day Care or Centre-based care. The same standards apply to all.
Family Day Care is a safe and high-quality alternative to Long Day Care. Both forms of care offer the same high quality. Similarly, Family Day Care Educators hold the same academic background.
The smaller settings encourage strong bonds, and the variety of hours offered can help families and communities thrive. Family Day Care has so many benefits that it's no wonder it is an in-demand field.
If you're planning to become a Family Day Care Educator and join this growing field, the course "How to start a Family Day Care Business" is the right choice to make. In this course you will learn the step-by-step on how to start your own FDC business.